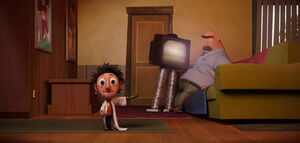 The Remote Controlled Television was one of Flint 's first inventions with two legs that pop out and can come with you anywhere. But eventually it escaped Flint's possession when it interacted with what was on it's screen. It is later seen in various parts of the movie. You can control it with a remote for flicking through channels, and it will follow you about on it's fold-out legs, and possibly see with tiny cameras on it's screen (a physic used in WALL-E), although it simultaneously interacts with almost all it's surroundings.
Trivia
It's first seen in one of Flint's demonstration videos, going out of control when Tim turns on it's screen.
It's also seen when Sam and Flint go on a walk in the park.
It is seen later taking the store manager out of an electronic store when the Food Hurricane hits. This is done as a gag, as earlier a resident broke the window of the store to steal a television.
It along with the Ratbirds are some of Flint's inventions that remained in Swallow Falls. It also taught the Foodimals about Flint with a damaged video. This causes them to see Flint as a god they call En Woo.
Gallery
Community content is available under
CC-BY-SA
unless otherwise noted.