Regina Devereaux is Earl Deveraux's wife and mother of Cal Devereaux. She is seen in Cal's room and when running from leftover slide from Mount Leftovers.
Appearance
Regina has a flat top hairstyle.
Personality
Sweet and kind to her family.
History
TV series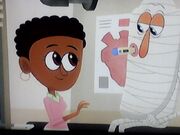 She is shown working as a doctor while Earl teaches high school. In Earl of My Dreams it is revealed that Earl missed her med school grad ceremony due to Flint Lockwood.
Cloudy with a Chance of Meatballs
Cloudy with a Chance of Meatballs 2