Invent This! is the 3rd episode of season 1 of Cloudy: the series Season 1.
Synopsis
When Tim is celebrated for accidentally inventing a pencil holder, Flint gets jealous and starts to doubt his own skills as an inventor.
Trivia
This is the first episode that Old Rick appear.
This is the first time in the series that Flint and Tim tried to hug.
The lunch box code was changed to 87291.
The title of the theater called Living Food and Living Food 2. This is a reference to the living food from the movie.
Gum pencil is by far the second Flint Lockwood invention that holds Swallorian Interest the most (8 hours), staying below the FLDSMDFR.
Inventions in this episode
Flint Lockwood Chainsaw Washer
Flint Lockwood Time Machine clock version and time travel version
Gum pencil
Lawnmower Shoe
Shower Chair
Shake 2 Shakers at the same time (Tim)
Lemonade in the muffin tin
Head scratcher that double as Food eater (Tim)
Rear-view Mirror (Brent)
Hot dog Holder (Swallow Fallsian)
Mouse Log (Swallow Fallsian)
Cheese Glob (Swallow Fallsian)
Glass-washer Glasses (Sam)
Swirly Black hole Generator (Swallow Fallsian)
Wheel (Stone Age Flint)
Fire (Stone Age Tim)
Gallery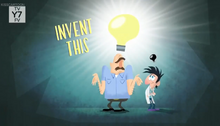 Community content is available under
CC-BY-SA
unless otherwise noted.