We're Getting Mutants in the MCU - The Loop
Play Sound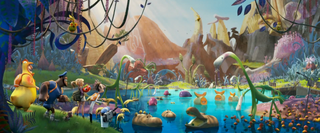 Foodimals, short for Food Animals, are living food-based creatures with the characteristics of animals that were created by Flint Lockwood's FLDSMDFR. They make their first appearance in Cloudy with a Chance of Meatballs 2 where they play a major role.
Origin
After the FLDSMDFR survived its destruction and landed on the abandoned Swallow Falls, it continued to create more mutated food, turning the island into a food paradise. In addition to the distinct biomes it created, the FLDSMDFR produced living mutated food with the characteristics of animals.
Behavior
Every species of foodimal behaves differently. Some are carnivorous and will chase down prey, while others are more docile and content to eat the local plant life. One thing all the foodimals have in common is respect and reverence for their creator, who they call "N-woo."
List of Foodimals
All Foodimals are animal-like in behavior and physical traits, however some are simply animalistic in behavior while physically resembling ordinary food with eyes and mouths.
Note: Foodimals are assumed to be herbivores unless shown otherwise (or their animal base commonly has a different dietary type).
Foodimal
Image
Food Base
Animal Base
Habitat
Wild Scallion

Scallion
Brachiosaurus
Foodimal Watering Hole
Fruit Cockatiel

Fruit Cocktail
Cockatiel
Foodimal Watering Hole
Hippotatomus

Potato
Hippopotamus
Foodimal Watering Hole
Cantelope

Cantaloupe
Antelope
Foodimal Watering Hole
Sasquash

Squash
Sasquatch
Nomadic
Shrimpanzee

Shrimp
Chimpanzee
Coconut Milk Rapids
Peanut Butter and Jellyfish

Peanut Butter and Jelly Sandwich
Jellyfish
Coconut Milk Rapids
Mosquitoast

Toast
Mosquito
Breakfast Bog
Tacodile Supreme

Taco Supreme
Crocodile
Salsa River
Cheespider

Cheeseburger
Spider
Food Jungle
Apple Pie-thon

Apple Pie a la Mode
Python
Food Jungle
Buttoad

Butter
Toad
Breakfast Bog
Lemmin

Lemon
Lemming
Foodimal Watering Hole
Kiwi

Kiwi
Kiwi
Foodimal Watering Hole
Cucumbird

Cucumber
Bird
Foodimal Watering Hole
Bananostrich

Banana
Ostrich
Salsa River
Flamango

Mango
Flamingo
Foodimal Watering Hole
Wildabeet

Beet
Wildebeest
Foodimal Watering Hole
Watermelophant

Watermelon
Elephant
Coconut Milk Rapids
Meatbalrus

Meatball
Walrus
Foodimal Watering Hole
Eggplanatee

Eggplant
Manatee
Foodimal Watering Hole
Marshmallow

Marshmallow
Human
Big Rock Candy Mountain
Tomato

Tomato
Human
Coconut Milk Rapids
Buffaloaf

Meatloaf
Buffalo
Food Jungle
Susheep

Sushi
Sheep
Food Jungle
Subwhale

Submarine Sandwich
Whale
Atlantic Ocean
Pearl

Onion
Human
Pickle Village
Walnut

Walnut
Monster
Food Jungle
Strawberry

Strawberry
Human
Strawberry Village
Blueberry

Blueberry
Food Jungle
Pickle

Pickle
Human
Pickle Village
Piece of Cake

Cake
Human
Food Jungle
Crab Cake

Cake
Crab
Food Jungle
Leek

Leek
Human
Coconut River Rapids
Carrot

Carrot
Human
Food Jungle
Lettuce

Lettuce
Human
Food Jungle
Pizza Giant

Pizza
Giant
Food Jungle
Hot Dog

Hot Dog
Human
Food Jungle
Corn Dog

Corn Dog
Dog
Beach
Grizzly Pear

Pear
Grizzly Bear
Food Jungle
Seahorseradish

Horseradish
Seahorse
Atlantic Ocean
Hammerbread Shark

Bread
Hammerhead Shark
Atlantic Ocean
Jellybee

Jellybean
Bee
Big Rock Candy Mountain
Matzo Bull

Matzo Ball
Bull
Salsa River
Tyranno-s'more-us Mess

S'mores
Tyrannosaurus Rex
Food Jungle
Other Food-based Lifeforms
In the first film, mutated sentient "super food" were shown to reside within the FLDSMDFR's domain and protect its "Meat-a-roid". This concept of vicious sentient food was expanded on in the video game. Food creatures from the movie such as Roast Chicken, Gummy Bears, and Spaghetti Twisters return to wreak havoc on the town, and the game introduces other new enemies such as Ice Cream Snowmen, Onions, and Pomegranates.
Trivia
The ecosystem of the Foodimals was originally based on "healthy food" vs. "junk food" for which foods would be vicious vs. docile, but that qualification was too subjective so humor was prioritized.
Fast food would originally attack its condiments - in an early version of the script, Tim Lockwood saved a Pickle from a Cheespider by stabbing it with a toothpick.
Character Designer Craig Kellman came up with around 200 food puns, like "turtleoni," "corn dogs (huskies, of course)," "gingeraffes," and "porkupines."
In an early version of the script, Earl smashed a Tacodile to pieces.