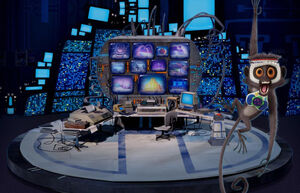 The laboratory of Flint Lockwood. It is where he works on his inventions and scientific research. it started off as a small high-tech treehouse. As Flint grew up it became a water tower, with the ground area covering most of the backyard except the entrance.
Inventions & Experiments
Experiments that were created or found within the lab.
Gallery
Trivia
Flint's motivational posters feature Isaac Newton, Thomas Edison, Nikola Tesla, Albert Einstein, Alexander Graham Bell, Philo Farnsworth, Vance Lafleur, science posters and magazine covers, and a picture of himself he drew as a child which says "Best Inventor Ever".
Flint's motivational posters were originally placed in his room.