"FLUBER" is the twenty-second episode of Season 2, and the seventy-fourth episode of the series.
Synopsis
Flint revolutionizes transportation in Swallow Falls by harnessing the power of ratbirds.
Trivia
Hector Evilman appears in this episode as an antagonist. The other times was "Inventor Only", "Coat of Harms", and "Inventor Code".
There is only one bus on swallow falls. It is used for Food Truck, Ambulance, Prison Transport, Track Racer, Party Wagon, Helicopter, Traffic Report, School Bus and everything.
"FLUBER" is a parody of Uber
The Sardemon appears in this episode
Inventions in this episode
Pickle in the Can
Hat in the Can
Pork in the can
Pants in the can
Raft in the Can
Snack in the Can
Flint Lockwood Commuter Cannon
Hector Evilman Toaster Coaster (Hector)
Flint Lockwood Individual Bubble Transport System
Hector Evilman plane boat (Hector)
Flint Lockwood Universal Bird Rider or "FLUBER"
Evil Rat Bird Taxi (Hector)
Gallery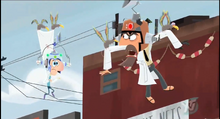 Community content is available under
CC-BY-SA
unless otherwise noted.