Clone Alone is the 30th episode of season 1 of Cloudy: the series.It debuted on YTV at 8:45am (EST) on 5 August 2017, following My Pop Is Tops.
Synopsis
Flint accidentally makes a clone of himself, and to his shock, his clone becomes more popular than him.
Trivia
The title and the image of this episode is a reference to the movie Home Alone.
It is revealed that Gil is potassium Intolerance. A real allergy that causes people to be allergic to banana.
Flint's banana clone has been elected prom king, prom queen, student body treasurer, president of all extracurricular activities.
Inventions in this episode
Flint Lockwood Banana Replicator
Gallery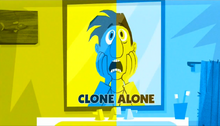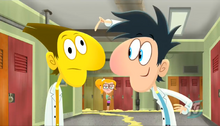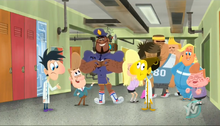 Community content is available under
CC-BY-SA
unless otherwise noted.